Powerglove Reloaded (Amiga)
£

15.00 Sold Out

Copyright:
Matthias Bock & Pierre Martin, 2018
Compatibility:
PAL/NTSC 1MB Amiga 500 (or better)

The world's fossil resources are exhausted. Two polar subterranean thermal reactors supply the increasing energy demand of mankind. An explosion in the Northern polar thermal reactor has destroyed all primary and secondary energy connections and contact with the engineers and rescue robots has been lost.

Without an energy supply the death of billions is imminent! We need the six control diamonds to engage the station's backup systems. Use the shielded suit and the Powerglove to protect you against the maintenance robots.

You're our only hope!

Powerglove Reloaded is a classic-era run 'n' gun game developed by Lazycow and Pierre 'Cyborgjeff' Martin for the Commodore Amiga home computer. Based on the 2014 Commodore smash 'Powerglove', this enhanced port features improved graphics, a larger game map, deeper game mechanics and even boss fights!

Guide the hero through the polar thermal reactor complex, navigate the complex network of transport tubes, locate the six control diamonds and blast away every rogue robot that stands in your path!

​Visit Lazycow's web site​ for full details on the game!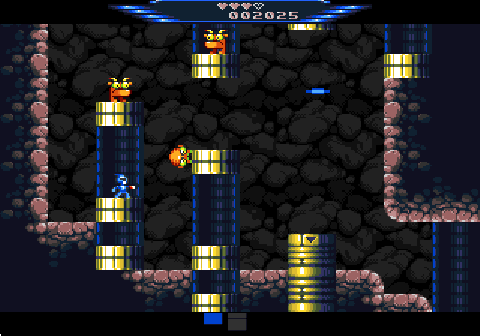 Powerglove Reloaded is presented in a plastic clam shell box complete with custom made foam insert. The game comes on an auto-booting jewel-cased CD complete with a professionally printed 16-page A6 manual, large weather-proof vinyl RGCD and Lazycow stickers, RGCD and Lazycow pin buttons, postcards and a rolled 170gsm matt-coated A3 poster (with the game map on the reverse).

The game can be purchased with an optional 3.5" disk version, but note that in both packages a spare disk label is provided (so you can backup or save £1 and make your own).

Please note that Powerglove Reloaded is also available to buy here as a downloadable .ADF/.LHA/.DMS/.ISO image to use via emulation or on real hardware. Purchases of the physical package here come with a download link of the game for free.

An official port of the game for modern-day PC systems (Windows/Linux/Mac OSX) is also available for free download over at itch.io!
Share