Powerglove (Commodore 64)
£

28.00 Sold Out

Copyright:
Matthias Bock & Pierre Martin, 2014
Compatibility:
PAL/NTSC C64/128/GS

The world's fossil resources are exhausted. Two polar subterranean thermal reactors supply the increasing energy demand of mankind. An explosion in the Northern polar thermal reactor has destroyed all primary and secondary energy connections and contact with the engineers and rescue robots has been lost.

Without an energy supply the death of billions is imminent! We need the five control diamonds to engage the station's backup systems. Use the shielded suit and the Powerglove to protect you against the maintenance robots.

Powerglove is a classic-era run 'n' gun game developed by ​Lazy​cow for the 30 year old Commodore 64 home computer, initially released as an entry in the RGCD 2013 RGCD 16K C64 Game Development Competition (where it placed 3rd out of 15 entries). This final version features a revised five level map with Powerboots and Energy Doors, faster room-change, slicker player controls, a map overview display, bug fixes, game balance tweaks and a much-requested shot sound effect!

Powerglove has full NTSC support, and the game and music run at the same speed as on PAL systems.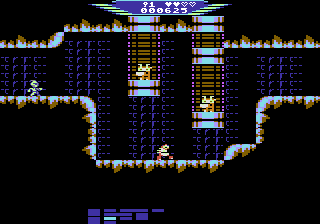 ---
Powerglove is presented in a modified plastic Universal Game Case complete with custom made foam insert (as with the rest of our deluxe range). The cover art features an illustration by Ilija 'iLKke' Melentijevic and comes complete with a professionally printed manual, an A3 double-sided poster/map print, a vinyl Powerglove sticker and six random character mini-stickers. The 16KB PCB is housed in a pastel blue cartridge shell with a 3D domed C-2048 label.

Please note that Powerglove is also available to buy here as a downloadable .CRT image to use via emulation or on real hardware devices such as the Ultimate 1541-II. A poster bundle is also available to buy here, consisting of an A2 and an A3 poster sent to you rolled in a reinforced tube. Purchases of the cartridge or poster bundle include the downloadable version of the game for free.

An official port of the game for modern-day PC systems (Windows/Linux/Mac OSX) is also available for free download over at itch.io!
Share