Tiger Claw (Amiga)
£

15.00 Sold Out

Copyright:
Matthias Bock & Saul Cross, 2018
Compatibility:
PAL/NTSC 1MB Amiga 500 (or better)

Help TIGER CLAW kick and punch his way through 24 screens of martial-arts mayhem to retrieve the four mystic scrolls before Fire Fist, Thunder Chain and Angry Tongue can reveal their true potential!

Fortunately, Master Lee has transferred some of the mystic scrolls' power into four masks of endurance before they were stolen. Find these masks and use them wisely. As Confucius said: "He that would perfect his work must first sharpen his tools!"​​​​​​

TIGER CLAW​ is a relentless beat 'em up game developed by Lazycow and Saul Cross. Originally released exclusively on Commodore 64 cartridge by RGCD for backers of the C64 in Pixels Kickstarter (Fusion Retro Books, 2016), then ported to Windows, MacOS, Linux and the Commodore Amiga in 2018!

TIGER CLAW was initially released as an entry in the 2014 RGCD 16K C64 Game Development Competition (where it placed 2nd out of 17 entries). Taking player feedback into consideration, the game was both further expanded and refined for the 64KB final, including the addition of extra rooms, foes and features, an arcade-style training mode and a 2-4 player deathmatch arena!

In December 2018, a new version of TIGER CLAW was made available for Windows, MacOS, Linux and the Commodore Amiga (1MB RAM), both in digital format and as this physical release.

​Visit Lazycow's web site​ for full details on the game!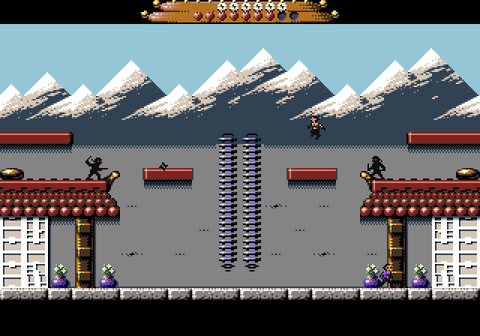 TIGER CLAW is presented in a plastic clam shell box complete with custom made foam insert. The game comes on an auto-booting jewel-cased CD complete with a professionally printed 20-page A6 manual, large weather-proof vinyl RGCD and Lazycow stickers, RGCD and Lazycow pin buttons, postcards, practice throwing-star and a rolled 170gsm matt-coated A3 poster (with the game map on the reverse).

The game can be purchased with an optional 3.5" disk version, but note that in both packages a spare disk label is provided (so you can backup or save £1 and make your own).

Please note that TIGER CLAW is also available to buy here as a downloadable .ADF/.LHA/.DMS/.ISO image to use via emulation or on real hardware. Purchases of the physical package here come with a download link of the game for free.

An official port of the game for modern-day PC systems (Windows/Linux/Mac OSX) is also available for free download over at itch.io!
Share