MAH (Commodore 64) (PAL ONLY)
£

32.00 Sold Out

Copyright:
Retream 2015-18
Compatibility:
PAL C64/GS

THE WORLD NEEDS YOU!

The Apocalypser has been activated. Turn it off before it brings Earth to an end.

Protovision and RGCD are proud to present MAH, a frantic-paced, immersive, rich, and totally innovative cyberpunk arcade game developed by Retream. Your objective is to stop the Apocalypser's 90 minutes countdown with your Peekpoker tool by hacking through the ApocalypShield, a software system made of 24 security layers and defended by numerous virtual guards.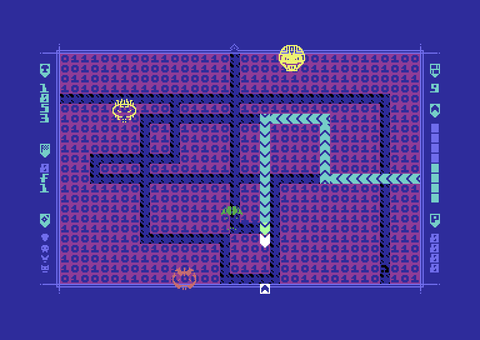 MAH features original, deep, ever-evolving gameplay, colourful hires graphics and dynamic context-driven music, 138 different enemies, a stylish introduction and ending, hiscore saving and comprehensive documentation.

Get ready for experience that will never cease to challenge and amaze you!

MAH is a Protovision & RGCD Production. For full details on the game, please check out the official website here. Please note that MAH is a PAL ONLY game. It will NOT run on NTSC Commodore 64 systems.
MAH is presented in a modified plastic Universal Game Case complete with custom made foam insert (as with the rest of our deluxe range). The cover art was designed by Simone Bevilacqua and the game comes complete with a professionally printed 16-page A6 manual, large weather-proof vinyl RGCD sticker and a Retream post-card. The GMOD2 PCB is housed in RGCD branded black cartridge shell, with a 3D domed MAH label.
Please note that Protovision are also selling the game on disk for 28 Euros (plus shipping). MAH is also available to buy here as a downloadable .D64 and .CRT image to use via emulation or on real hardware devices such as the Ultimate 1541-II. Purchases of the cartridge include the downloadable version of the game for free.
Share