LuftrauserZ (Commodore 64) (PAL ONLY)
£

35.00 Sold Out

Copyright:
Vlambeer 2014, Paul Koller 2017
Compatibility:
PAL C64/128/GS

The skies will be set aflame and the seas will overflow with wreckage in Vlambeer's stylish arcade shooter LuftrauserZ!

Select from over 125 combinations of weapons, bodies, and propulsion systems and take to the skies to battle enemy fighter planes, battleships, and rival aces for glory, honour, and high scores. Bravely volunteer for one of over 60 daring missions to unlock new Rauser combinations and become the most legendary Rauser pilot of all time!

LuftrauserZ is an official conversion of the 2014 indie classic Luftrausers for the C64 computer, developed by Commodore enthusiast Paul Koller and published on cartridge by Vlambeer and RGCD.

Exclusive to C64 cartridge, LuftrauserZ drop-kicks your Commodore 64 into the 21st century with its hyper-aggressive, arcade-style gameplay, fluid 50FPS 8-way scrolling and endless waves of enemy fighters to blast out of the sepia-coloured skies!

LuftrauserZ is a PAL ONLY game. It will NOT run on NTSC Commodore 64 systems.

For full details on the game, please check out the official press kit here.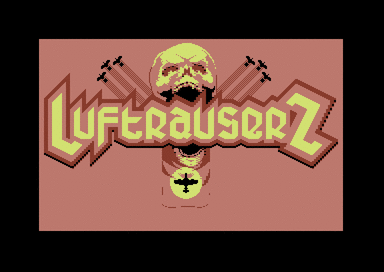 LuftrauserZ is presented in a custom RGCD banded three-part cardboard box with a glossy outer sleeve. The cover art by JunkBoy was adapted by Ilija 'iLKke' Melentijevic and the game comes complete with a professionally printed 16-page A6 manual, large weather-proof vinyl RGCD sticker, custom LuftrauserZ pin button, sticker, post-card and a 170gsm matt-coated A3 poster. The GMOD2 PCB is housed in RGCD branded black cartridge shell, with a 3D domed LuftrauserZ label.

Please note that LuftrauserZ is also available to buy here as a downloadable .CRT image to use via emulation or on real hardware devices such as the Ultimate 1541-II. Purchases of the cartridge include the downloadable version of the game for free.
Share