Aviator Arcade II (Commodore 64)
£

36.00 Sold Out

Copyright:
Mark Hindsbo, Saul Cross & Thomas Petersen, 2018
Compatibility:
PAL/NTSC C64/128/GS

An unknown militarized terrorist unit, known as the X-Force, has occupied the peaceful city of Suburbia. As the top pilot in the Earth Defence Force (EDF) the job of defeating the terrorists falls to you!

Flying your state of the art attack helicopter you are sent into what seems to be a straight forward seek-and-destroy mission - but as the story unfolds it will become apparent that the X-Force's goal is more sinister than anyone could have imagined...

Grab your joystick, save the world, and see if you can get that all-time high score!

The initial version of AVIATOR ARCADE was released as a three-level, 16KB cartridge game for the RGCD annual C64 game development competition (in 2014). This greatly enhanced sequel, AVIATOR ARCADE II is a direct response to the feedback received after the first game was released, and features high octane 50/60 FPS SHMUP action across 10 action-packed levels, all new background and sprite graphics, boss battles, weapon and armour power-ups, high score list and options saved to cartridge and disk, full PAL/NTSC compatibility and multiple difficulty levels, auto-fire and more options!

Developed by Mark Hindsbo, Saul Cross and Thomas Petersen, AVIATOR ARCADE II is arguably one of the best vertical shoot-em-up games available for the Commodore 64, offering players a console quality arcade experience on the humble 8-Bit home computer!

AVIATOR ARCADE II is a Psytronik & RGCD Production.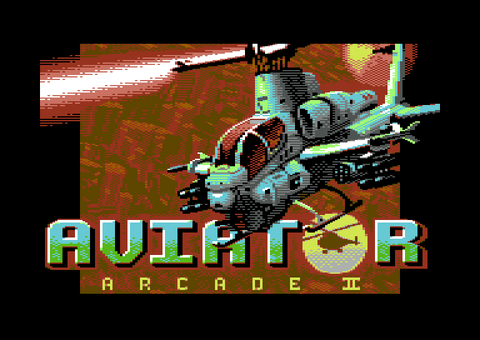 AVIATOR ARCADE II is presented in a modified plastic Universal Game Case complete with custom made foam insert (as with the rest of our deluxe range). The cover art was illustrated by Telemachus 'Helm' Stavropoulos and the game comes complete with a professionally printed 20-page A6 manual, large weather-proof vinyl RGCD sticker, Psytronik and RGCD badges, post-card and a 170gsm matt-coated A3 poster. The GMOD2 PCB is housed in RGCD branded black cartridge shell, with a 3D domed label.

Please note that Pystronik Software will be selling the game on 5.25" diskette very soon! AVIATOR ARCADE II is also available to buy here as a downloadable .D64 image to use via emulation or on real hardware devices such as the Ultimate 1541-II.
Note that purchases of the cartridge include the downloadable version of the game for free.
Share